About the Authors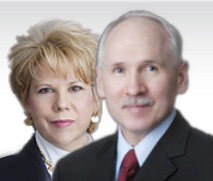 Apostle Eric and his wife, Maria, the co-author of the book, are Christian educators and founders of Second 8th Week Ministries, which is a coalition of apostles, prophets, evangelists, pastors, and teachers all dedicated to bringing the light of God's truth to a world that is hungering after righteousness.
The vonAndersecks offer their Christian Education free online. If you are looking to rebuild your faith in Jesus Christ from the ground up... Click Here
A Message From the Authors

The Matrix is a highly popular movie because the audience can identify with being in some kind of dream state where they are living out a false reality, living out a lie they were programmed to believe. The movie is about the fight for freedom, the fight to come into the purpose of one's existence, the fight to lose the hold the lie has on you.

You are in this struggle too. You sense it inside. You want to learn the truth, you want to wake up. You are ready for the fight. You would rather die fighting the lie than continue to be a prisoner of it. Breaking the Antichrist Code is book that helps a person through the process of awakening to the truth by first learning who the Liar is, how his awful hatred for mankind came into being, how it consumed him, and how he swore revenge against every human being for all time. His desire is that you die.

You know it's true. The life you are living is just a shadow of that which God had planned for you. Every now and then you have a kind of Déjà vu where you see things as they really are, but then it fads just as quickly as it comes. It's like wiping your hand across a mirror in a steaming room, you see a few images faintly for a second until the steam clouds your vision again.

This book is written for you to win this fight for your life, to help you wake up.